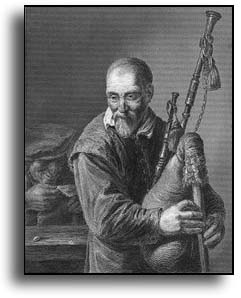 Welcome to the Bagpipe Iconography page.

---



Many will notice the lack of updates to this site over the last couple of years. I have to admit that most of my energy now goes to making live music with my band, Prydein. Please don't think I've forgotten you! If you have images that aren't on this list and you think the rest of the world would benefit from them, please contact me through my band site. I'll send you an e-mail address where you can send me scanned images.

Cheers!

Aron


Double Chanter bagpipe carving. Click the image to find out more.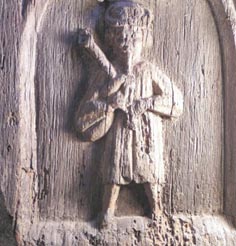 ---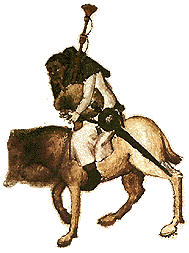 the Miller from Chaucer's Canterbury Tales
If you do not see a Table to the left of your screen with a long menu, Click Here in order to see all your choices easier.
The Album Review page has a new review of the album Love and a Bottle by Jon Swayne and Becky Price. I look forward to lots of submissions. Please let me know the name of the maker and style of your pipes when you send them as well as your name!
The Etchings pages contain woodcuts, engravings and drawings. I don't always know what I've got so please feel free to e-mail me with correct information if you have it.
The Paintings pages, I must say, are rather dominated by the works of Dutch artists centered around 1600's Holland and Flanders. These paintings truly show the role of the bagpipe in society at this time. Some of the paintings are the standard Breughel images which most people recognize and attribute to "Flemish Pipes". The other images can be attributed to the likes of Jan Steen, David Teniers II and others.
The Carvings and Tapestries pages contain tapestries as well as gargoyle carvings, misericords and statues.
The Two Chanter English Bagpipes pages which contain mostly carvings of stone and wood and are based wholly around the double chanter English bagpipe. These pages are made possible by James Merryweather.
The Bagpipes of the Cantigas de Santa Maria, an illustrated ancient collection of songs from medieval Spain.

The Black and White pages are images that exist, to me, only in black and white but I know there are color versions out there somewhere. If you have color versions of anything in these pages, please send it in.

The Exeter Cathedral Bagpiper with exclusive pictures you won't see anywhere else!

Totentanz or the Dance of Death is a great collection. See how often the bagpipe comes up in relation to "the Other Side".
The Flood Collection is from a book written in 1910 by Mr. Flood on the bagpipe.

The Medieval Manuscript Pages contain images extracted only from medieval manuscripts. These are some of the earliest images on the site.

The Zampogna Page is comprised of images based on the very large, Italian Zampogna. These are mainly 19th century images.

The Czech Pages are mostly from Eastern European Postcards. I would love to find some earlier stuff. If this is where your interest lies, also visit the Estonian Page. It's along similar lines.

The Music Manuals of the 16th and 17th centuries offer an intriguing view of the bagpipe in relation to other instruments and music of the day. These images are from treatises by the likes of Mersenne, Praetorius, Diderot and more.

The Piper's Gathering page is devoted to that little Vermont Bagpiping Festival which I just cannot get enough of. Great place to go if you want the chance to see some of these instruments live as it attracts many instrument makers who specialize in recreations. These pictures are from 2003. The 2011 Festival will take place at Champlain College in Burlington, VT.
---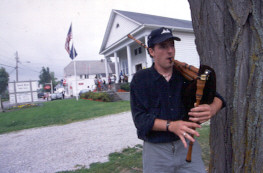 This is me at the
North Hero Piper's Gathering
playing my Michael Mac Harg set of "Flemish Pipes"

Feel free to send any questions, suggestions or submissions by contacting me here
---
This count as-of April 29th, 2002 @7:00 p.m... 11 years ago!