Portrait of Francois Langlois by Claude Vignon (1593-1670)
Davis Museum and Cultural Center, Wellesley College, Massachusetts, USA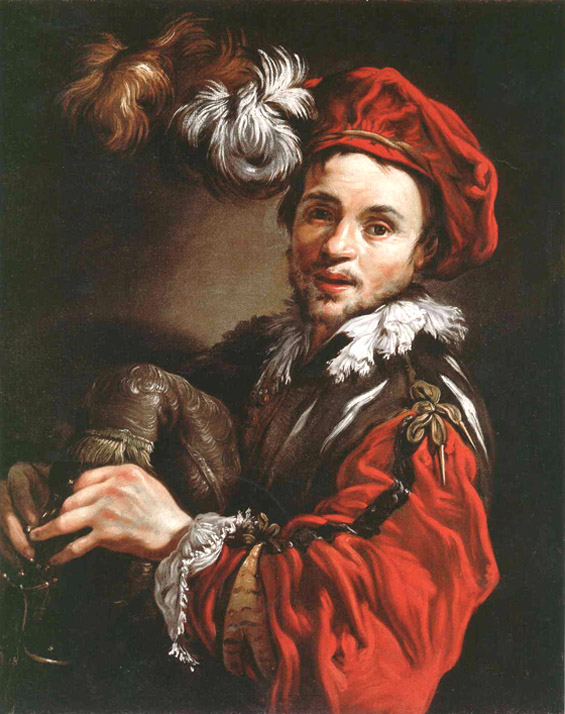 ---
The following text appeared in BBC Music Magazine in September of 2001 by Laurence Libin

Claude Vignon's flattering portrait of his friend Francois Langlois (1589-1647), a prominent engraver, art dealer and amateur musician, shows him in costume, playing a sourdeline: a costly, complicated bagpipe of which no example survives. The caption to Charles David's engraving of this portrait praises both instrument and player: 'There is no organ or other instrument that the sourdeline does not surpass when touched by this one here'.

French philosopher and theologian Marin Mersenne likened the soudeline to a portable organ; it could sustain chords and play simple polyphony as well as a melody with accompaniment. The instrument was an Italian invention, and Mersenne notes that the Duke of Bracciano added a fourth pipe to it to accommodate four-part music. Pierre Trichet (c1640), the French writer and collector, associated it with Langlois: 'As soon as it was brought to France, it was regarded with great approbation and I myself, having been curious to hear one, which Francois Langlois, native of Chartres, played at Bordeaux in the year 1626, I wanted also to examine all its keys.'

Langlois probably acquired his celebrated sourdeline during one of his sojourns in Italy. This portrait has a Roman provenance (collection of Marcello Massarenti, Accoramboni Palace, Rome, by 1897), and Vignon, who lived in Rome about the same time as Langlois in the early 1620s, could have painted it there before returning to Paris by January 1623.

Like a musette, the sourdeline was designed for chamber music. Its arm-operated bellows left the performer's mouth unencumbered, allowing him to sing while playing, as this man's slightly parted lips suggest. His instrument is not completely visible but seems to have two ebony chanters of unequal length, with protective brass rings around their flared bells. An array of brass keys descends between the chanters. These keys, which include an exceptionally long one with a curved, forked touch, were affixed to a third, lower-pitched pipe barely visible behind the chanters. Since ebony woodwinds commonly had silver keys, the presence of brass here is anomalous.

A related painting recently attributed to Vignon (Hispanic Society of America, New York) shows a gentleman surrounded by objects of art and symbols of intellect including several musical instruments, most prominently a sourdeline identical to the foregoing. This view shows more of the distinctive brass keys and the long, upcurved central pipe, all but invisible in the Wellesley picture shown here. Also seen on the foremost chanter is a line of wide, flat touches not unlike the regulator keys on the Irish union pipes.

The sourdeline's reappearance in the New York portrait suggests that Vignon's sitter is again Langlois, who also strikingly resembles the musette player in Savoyard costume famously portrayed by Anthony Van Dyck. Langlois could have posed for Van Dyck in September 1637 while visiting London, where his clients included Charles I. Van Dyck's canvas (now in the collection of the Viscount Cowdray, Midhurst, Sussex) belonged to Langlois, and the caption to Jean Pesne's engraving of it names Langlois as Van Dyck's subject: 'Francois Langlois, native of Chartres, bookseller and dealer in engravings in Paris, excelled at playing the musette and many other instruments'.

All three canvases reinforce Langlois's reputation as a connoisseur. In addition, Claude Vignon's paintings provide valuable details about an obscure but once-prized instrument.