Der uebel-wehlende Narr from the book by Wahrmund Jocoserius
---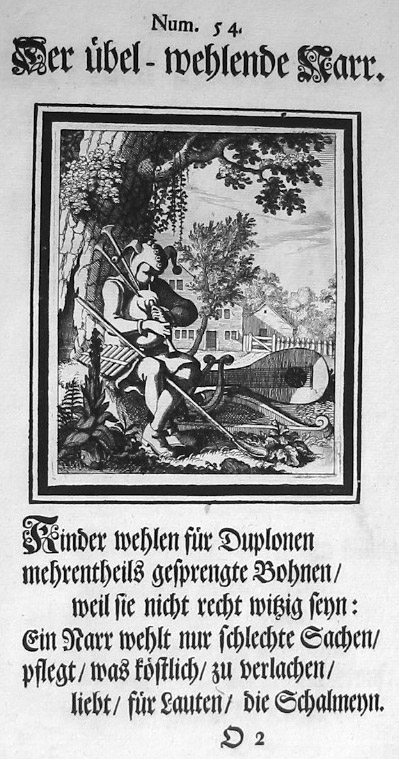 Thanks to eBay for this one.
"This copper engraving is from the above stated satirical work composed by "True Mouth Funnyserious" and supposedly printed in Free City in this year. The identity of the author has not been ascertained, but the bibliographies assert that it was printed in Nuremberg in 1730. The Prints were originally drawn by Caspar Merian. The fool motive in literature goes back to Sebastian Brant's Ship of Fool printed in the late fifteenth century."
---
I have no idea what this says, maybe it is what the above was translated from. If anyone knows, I sure would like to know.
Wol-geschliffener Narren-Spiegel. Worinnen Hundert und vierzehen Arten allerley Narren Ihr Eben-Bild und ungestaltes Wesen ersehen/ und sich von ihrer Unsauberkeit vermittelst des klaren Wassers Wahrer Weissheit reinigen koennen. durch 115. Merianische saubere Kupfer vorgestellet, und mit scherz-und ernsthaften Reimen heraus gegeben durch Wahrmund Jocoserius Freystadt/ Gedruckt in diesem Jahr. (Nuernberg: Monath, 1730).