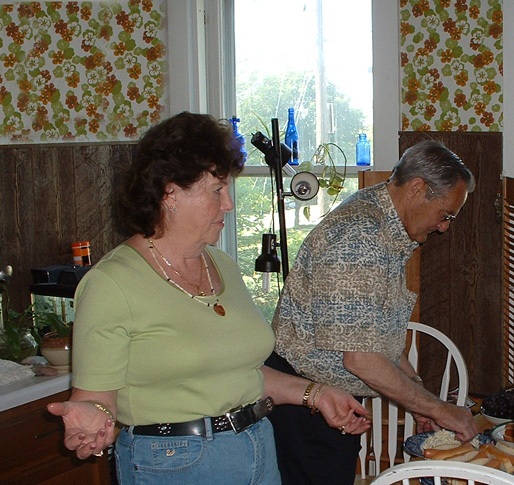 This picture of my grandmother is not up to show you how beautiful my grandmother is but rather it's the only picture I could find that shows a close-up of the wallpaper as it was when we moved in.

That barn-board there? See it? It's not real. It's barn-board textured Masonite. Of course the Masonite paneling was removed exposing the original wainscoting (painted tan in some places, pink in others; click here to see what that looked like). That wallpaper, for which there is no excuse, is covering up cracked, damaged plaster. The ceiling was fiber tiles which were coming loose all around so someone went and put some dry wall screws into them for good measure. This room has been an ongoing project since we moved in and difficult too as we practically live in here.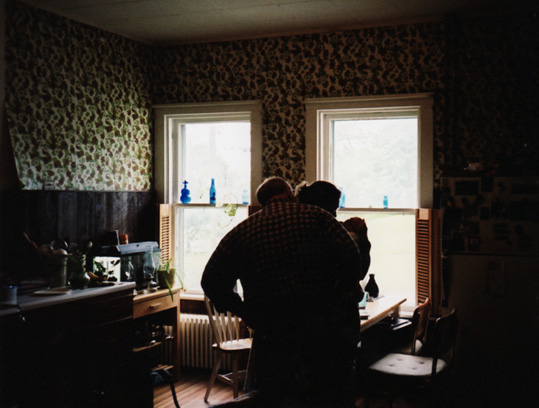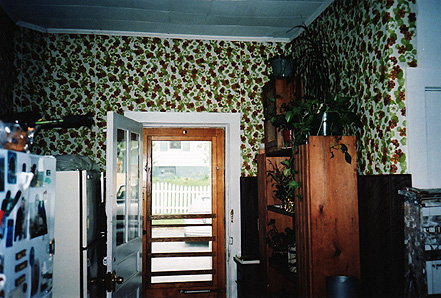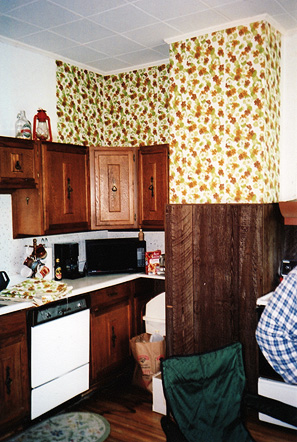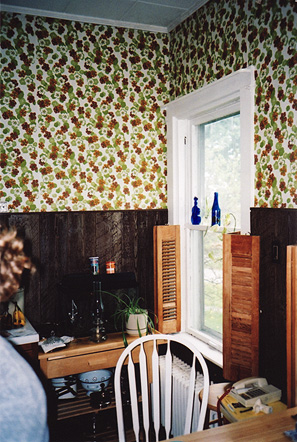 And this isn't just a picture of a little cutie-patootie, it's there to show what waited for us under that masonite-barnboard. It's the original wainscoting with a sampling of the different paints used on it over the years.

A picture of the room as it is today after all the work. For a close-up, roll your mouse over this image

The cabinets and sink were quite a project. Almost everything was replaced with the help of my father-in-law Dave. Click here to see some of the "behind the scenes" work on this project

The steel sink and 1960's era countertop were replaced with an older cast iron enameled sink and a countertop from Home Depot. One day it will all be replaced with butcher block like the smaller cabinet in the next picture has been. We replaced the backsplash (the tiled one was falling apart and disgusting), repaired the plaster and removed the fiber-square ceiling. Bethany painted the cabinets and we replaced the 1970s dishwasher with a new energy-efficient model.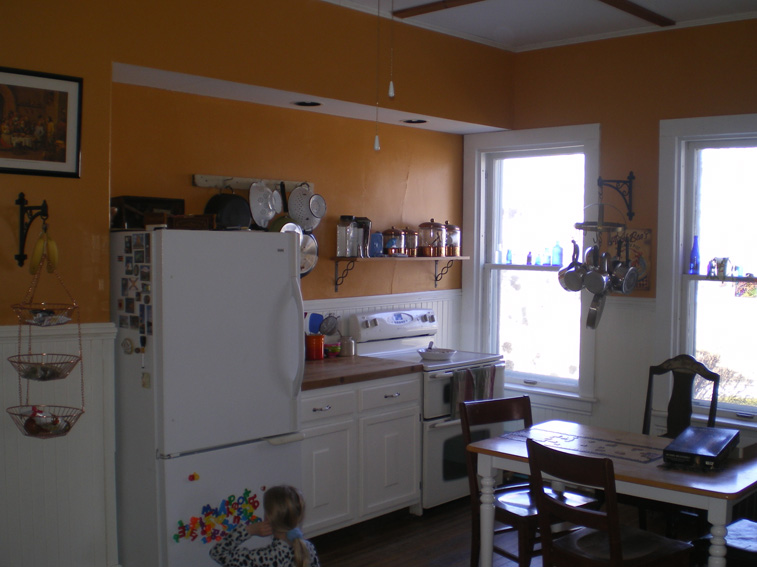 For a close-up, roll your mouse over this image





The North side of the kitchen was always a little challenging. Poor light and such a large unused wall begged for a soffet with lights to be added. This greatly improved the situation over the stove and prep area and was the finishing touch that the kitchen needed. Click here to see the work that was done above the stove.