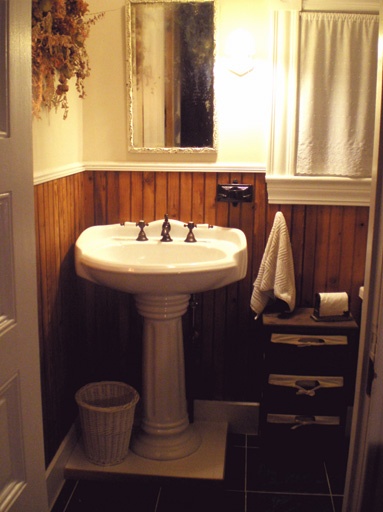 An after shot of the bathroom

One of the first projects to be taken on was the downstairs bath under the grand staircase. On the back wall the original wainscoting had been removed and replaced with a piece of sideways laid wood paneling. On the other it had been replaced with a poor self-tiling job. The shower was also a self tile job with an actual mushroom growing out of one corner! That's what prompted something to be done.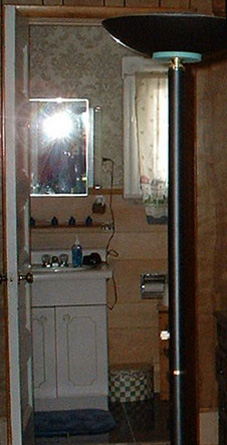 &nbsp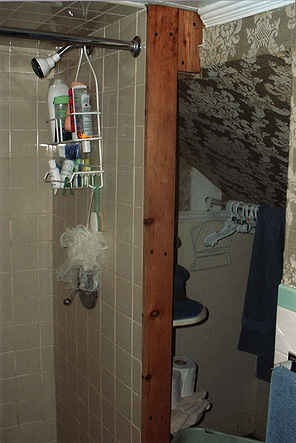 This 'before' picture of the bathroom was taken the day we went to look at the house



So I pulled out the flocked wallpaper, the 1960s medicine cabinet, the tiling and the wood paneling. Pulled out the 1970s era vanity, the wrecked plaster and re- routed the electrical. We put in a little tub, a pedestal sink and some new/old lighting. The garage has as a ceiling old, unpainted bead-board. I pulled down a small section of this and put it in the bathroom as wainscoting. It is now the only unpainted wainscoting in the entire house.





I think the cat was the only one who was sad to see the sink and paneling go...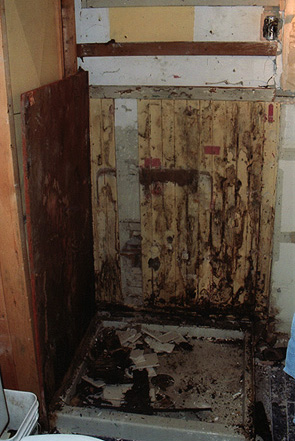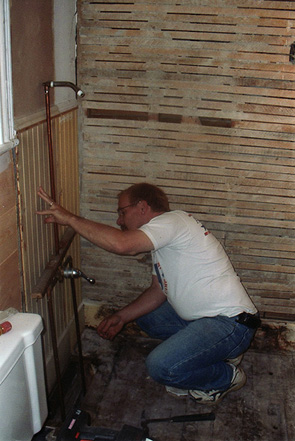 Removing the layer of tile, plywood and original wainscoting
So we removed the layer of tile (it wasn't hard). Then we removed the plywood uncovering the original wainscoting with the shadow of an old sink on it. The tile and plywood were not watertight and this section of the house was growing mushrooms. We removed the wainscoting and I re-used the pieces that hadn't rotted through in order to replace the wainscoting that was missing from the rest of the bathroom. We relocated the plumbing to be against the wall so we could get rid of that weird half wall and in order to fit a tub under the stairs.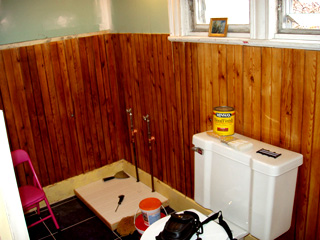 Staining the "new" wainscoting from the garage ceiling. Replaced plaster with MR wallboard and new/old light fixture.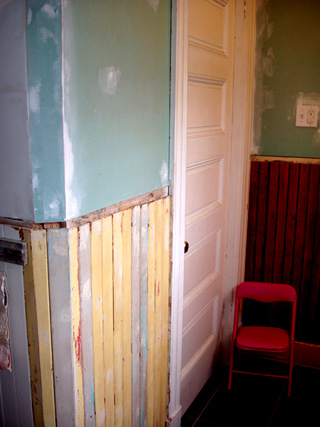 This wainscoting was used as spacing behind the wood paneling in the living room... I saved it